You are here
1st Creative Mobilities International Forum – Grenoble (France), 29 September 2017
The Creative Mobilities International Forum, co-organised by Territoires Associés, SMTC and Terra21 will be launched in Grenoble, France, on 29 September 2017.
The Forum focuses on the human dimension of urban mobility, including the potential synergies between mobility, creativity, culture(s), and sustainable development in cities and human settlements. Visits and activities will be organized the day before and after the Forum.
Based on more than worldwide 60 existing practices identified by the organizers and partners, elected officials, cultural actors, mobility operators, academics and urban planners will analyse challenges, promote innovation and find new solutions, addressing issues such as:
     - the role of mobility as a driver of socialization and social change through the arts and culture,
     - the role of cultural actors in raising awareness about sustainable mobility,
     - Innovation in R&D for mobility actors through collaborations with the creative sectors,
     - how public space and transport can be spaces for promoting diversity, innovative arts forms, cultural participation, inclusion, intercultural dialogue and active citizenship  
     - how mobility practices and climate change are influenced by cultural aspects
     - joint challenges: build new narratives for and with local communities, citizens' health and well-being, societies in transition, the digital revolution and fight against inequalities.
The Committee on culture of UCLG supports the Forum and looks forward to pursuing work in this area in the coming years. The Creative Mobilities Forum will be an important first step to identify good practices, discuss the challenges and plan future steps, and your city has a role to play in it:
     - If the relation mobility-culture is already important in your city, the Creative Mobilities Forum is the place to exchange practices and learn more.
     - If this relation is not yet well explored in your city, and you wish to better analyse and implement policies in this field, then the Forum is the place to connect with more experienced cities.
Please save the dates of the Creative Mobilities Forum in your diary (29 September 2017) and find out more information here. You are encouraged to register as soon as possible, as space is limited. If you wish to know more, please contact creativemobilities (at) territoires-associes.org or info (at) agenda21culture.net
Call for communication: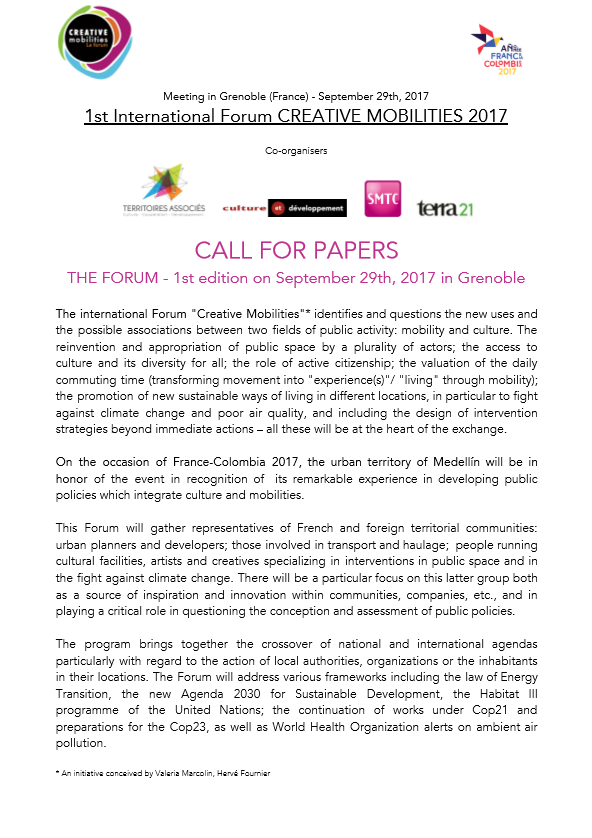 Link
---
Call for papers (deadline: 20 July 2017)