You are here
Call for papers - Jinju's Journal of Crafts and Folk Arts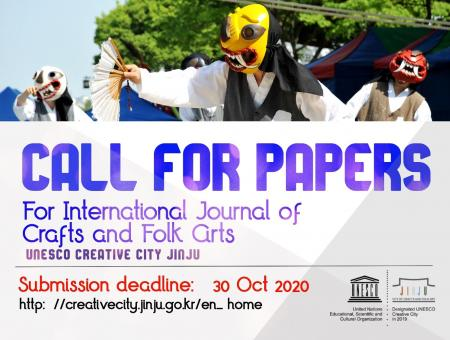 The City of Jinju, Pilot City of the Agenda 21 for Culture and UNESCO Creative City, has launched a call for papers for the first issue of an International Journal of Crafts and Folk Arts, foreseen to be published in November 2020. The call is looking to collect academic and research papers, articles, and news items related to crafts and folk arts.
The Journal aims to foster cultural diversity and sustainable urban development by sharing knowledge, experiences and good practices. Covering topics such as creative transmission of intangible cultural heritage in the domain of crafts and folk arts, ways to promote creative industries for sustainable development amongst others, the Journal will also act as a platform for debates on current and future challenges, interviews, innovative practices and events related to Crafts and Folk Art. Cities, local and international artists, residencies, educational institutions, and governments are invited to partake and share their work until 30 October 2020.
More information here.