You are here
HOMEE winner of the European Heritage Awards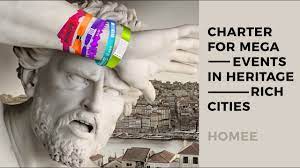 The European Commission and Europa Nostra have named the HOMEE Project (Heritage Opportunities/threat within Mega-Events in Europe) as one of the 2022 winners of the European Heritage Awards / Europa Nostra Awards in the Research category.
The European Heritage Awards / Europa Nostra Awards are an important heritage recognition in Europe, and they have been a key tool to promote the multiple values of cultural and natural heritage for Europe's society, economy and environment for the last 20 years.
"HOMEE has established an important quality framework to help strike the balance when organising mega-events in heritage cities. The project promotes dialogue and innovation in the sphere of European cultural heritage in relation to urban planning, involving academia, cultural actors, local leaders, private enterprises and communities for the resolution of emerging challenges in rapidly changing contexts, with a view on the post-pandemic era."
More information here.