You are here
UCLG's #CitiesAreListening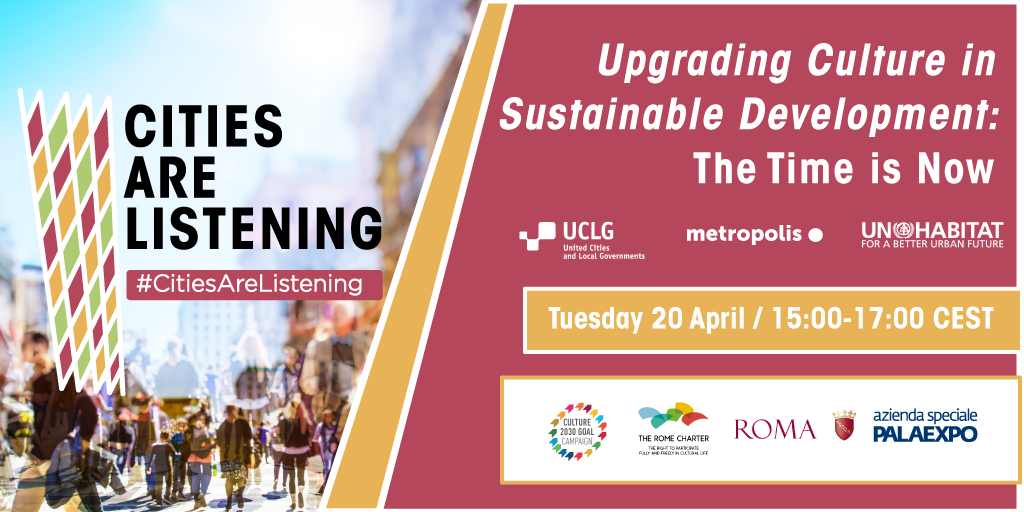 On last 20 April 2021, United Cities and Local Governments (UCLG), together with UN Habitat and Metropolis, and in partnership with the #culture2030goal campaign, Rome City Council and Palaexpo, organised a 'Cities Are Listening' session on culture.
Entitled 'Upgrading Culture in Sustainable Development: The Time is Now', the session aimed at consolidating a dialogue between global cultural civil society networks and local and regional governments in the frame of the UCLG Pact for the Future. In particular, the session allowed panelists and participants to give visibility to the campaign #culture2030goal; learn from the narratives, the activities and the challenges of global cultural networks; give visibility to the Rome Charter; visualize specific examples of work by the Orchestras of Transformation that relate culture and the arts with the SDGs; and learn from narratives, activities and challenges of UCLG members in the field of culture.
The session took place online on 20 April 2021, 15:00 – 17:00 CEST. The agenda of the session, as well as connexion details are available here.